A new module has been released that allows dynamic To Do lists to be inserted into page content with a simple include:todo tag. Use them for managing tasks associated with page content, or as a web-based task management system. Multiple lists can be inserted into a page by using a label like this: include:todo AnotherList. List labels follow the same rules as page names.

To Do lists are only visible (and editable) by users who can edit the page they are inserted into. Viewers of the page will not see the to do list. An optional "view" mode can be set to make to do lists visible to non-editors, if this is the desired behavior.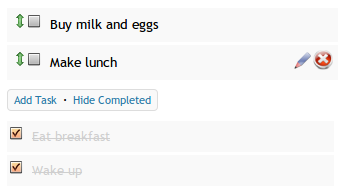 To add this feature to your site, go to Settings -> Site Management -> Modules and install the To Do List Module.